Description:
[
About me
]
I am...
Complex.
beautiful.
pretentious.
I will...
inspire you.
try to always keep you smiling.
help you with your problems the best I can.
I like...
peace.
art.
music.
I think...
rainbows are pretty.
the world would be prettier without people.
when rain hits my skin it feels like velvet.
I know...
I'm not perfect.
life is difficult.
we are just breakable girls and boys.
I can...
accomplish anything I want if I work for it.
help in the fight for peace.
be far better than my mother at life.
I wish...
I could end world hunger.
I could find my special someone.
I could meet Ingrid Michaelson.
I collect...
bottles.
stuffed animals.
various bags.
I love...
music.
any form of art.
abnormality.
I protect...
my friends.
my heart.
animals.
I hate...
homophobia.
animal cruelty.
liars.
I'm not...
skinny.
fat.
better than you.
I've never....
expected much out of life but always tried to do my best.
enjoyed math.
climbed a mountain.
I eat.....
exotic foods.
rainbow twizzlers.
gummy bears.
I'm in love....
with laying in fields and looking at the stars.
with rainy days.
with romantic nights.
I enjoy...
deep conversations.
good company.
being held
My flaws are...
ocd.
depression.
anxiety.
I prefer...
cold to hot.
cuddles to sex.
sweet to sour.
I plan to...
move out of state.
go to college.
become successful.
You should consider talking to me. It may be one of the best decisions you've made all day. :)
MSN: transic_nostal
gia@hotmail.com
AIM: Cypher Doll
Darkstarlings.com:Madame-Deficit

[

My likes

]
anything involving rave
Peace and love
bright colors
rainy days
snow
poetry
music
The arts both live and on paper
My friends
animals (of all kinds)
learning new things
exploring new things
being random
scaring people who are close-minded
taking pictures
candy
cupcakes

[

My dislikes

]
Animal cruelty
human nature
cheaters
liars
people who tell me what to do
people who hurt me
gum on my shoes
people who call themselves "emo"
politics
people who try too hard
those who try to push religion on you
when people hurt my friends
Everything about Polk County
close-mindedness
homophobia
sausage
sun burns

[

Currently residing on my MP3 player

]
A Day To Remember
A Perfect Circle
Action Action
Air
Alice In Videoland
Amanda Ghost
Antsy Pants
Assemblage 23
Barry Louis Polisar
Belle & Sebastian
Blood On The Dance Floor
Breathe Carolina
Cat Power
Depeche Mode
Emilie Autumn
Feist
Flyleaf
Frou Frou
Imogen Heap
Incubus
Ingrid Michaelson
Ivy
Kimya Dawson
Mott The Hoople
Orgy
Placebo
Porcelain & The Tramps
Rammstein
Savage Garden
She Wants Revenge
Skinny Puppy
Sonic Youth
The Bastard Fairies
The Beatles
The Birthday Massacre
The Cure
The Moldy Peaches
The Raconteurs
The Velvet Underground
Tori Amos
Zeromancer

[

Films I watch most

]
Across The Universe
Alice
Alice In Wonderland
Cloverfield
Dirty Dancing
Donnie Darko
Eternal Sunshine Of The Spotless Mind
Hellsing
Interview With A Vampire
Juno
Little Miss Sunshine
Lorenzo's Oil
Moon Child
Nightmare Before Christmas
Queen Of The Damned
Silent Hill
SLC Punk
Tin Man
The Crow (all of them)
The Hebrew Hammer
The Lost Boys
The Neverending Story
The Phantom Of The Opera
The Science Of Sleep
The Suicide Club

[

Books I read most

]
A Child Called It
Angel Sanctuary
Candy
Dears
Gravitation
Hellsing
Johnny The Homicidal Maniac
Megatokyo
Pet Shop of Horrors
Story Time
The complete works of Edgar Allan Poe
The Vampire Armand
The Lost Boy
Things Not Seen
World War Z

MY ART WORK!
Drawing I did cuz I was feeling uber creative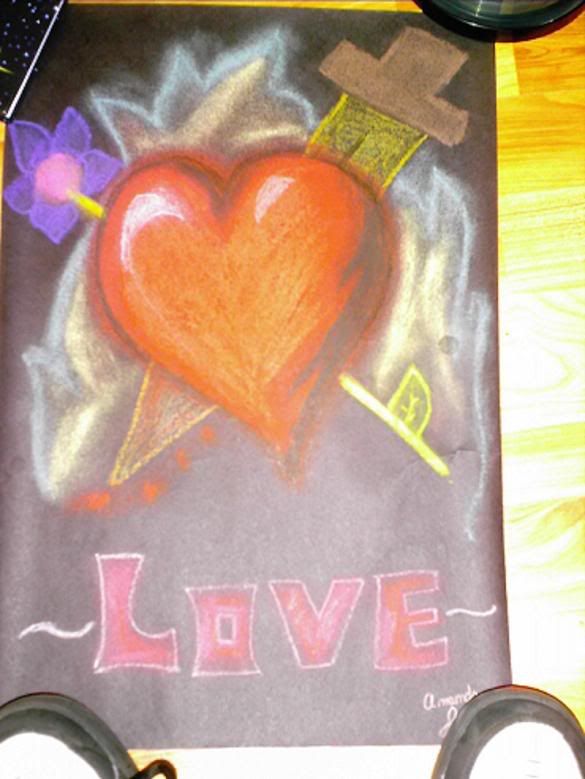 The art on my door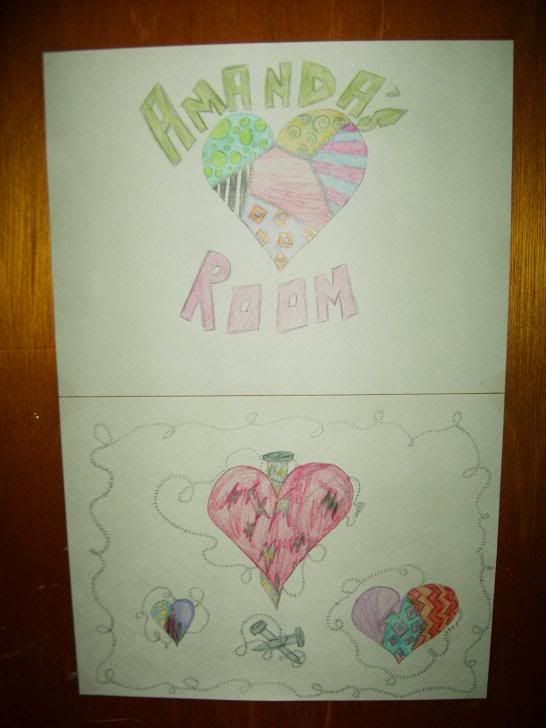 Emotion
By: Amanda Jones
In silent solitude I sit and stare out this window of opportunities. I'm hoping to see happiness but the storms are rolling in quicker then you can speak the words. This sea of torment that swims around my being is here only to mock me of what I want and cant seem to achieve. Kiss me like the ocean were flooding over the land,as if tomorrow would never come and today would never end. Despair crawls like a new born infant onto the heart that cannot express its true emotion, what does it want? You. Bleed to breathe, the heart pumps as it flows through the veins of sadness. Compromise yourself to feel better. Contradict what you know to be true. Save yourself, the end will hurt. Tomorrow never came and alone was solitude. Sad, nothing more, confused and never found. The breeze whispers your name in my ear and I hear it like angels. Emotion of all things in life that pop, and rip, and tear, and destroy you. Give in the pressure of a thousand ton waves of helplessness. Fall to your knees and pray that someone hears it.